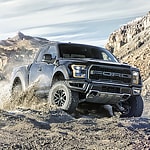 Talk to any truck fan about performance trucks and the first name that comes to mind is the incredible Ford F-150 Raptor. That's because there really is nothing like the F-150 Raptor currently on the road. Let's take a look at some of the most impressive performance features of the current model F-150 Raptor.
The most impressive performance feature of the F-150 Raptor has to be what's under the hood. The F-150 Raptor comes with a 3.5-liter High Output engine that delivers up to 450 horsepower. This excellent powertrain allows the F-150 Raptor to hit 60 miles per hour in just 5.5 seconds.
When it comes to performance off-road, the Ford F-150 Raptor has everything covered thanks to its Trail Control feature. With Trail Control, the F-150 Raptor will manage the torque and the braking as the vehicle navigates over the most unforgiving terrain. This makes the F-150 Raptor the ultimate vehicle for any off-road adventure.