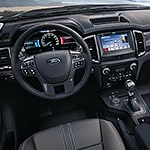 The Ford Ranger is a truck that many people like to take on adventures. One of the reasons that people like the Ford Ranger is because it comes with the latest technology. You can use the Ford Co-pilot 360. It has a variety of driver-assistive technologies that are designed to enhance your driving experience. Some of those features include blind-spot monitoring, pre-collision assist with emergency braking, adaptive cruise control, and lane-keeping assist.
Many car accidents occur when people are changing lanes. These accidents often occur because people cannot see who is in the blind spot. Blind-spot monitoring will let you know if someone is in the blind spot. Pre-collision assist will give you an alert if you are getting ready to hit something or someone.
Adaptive cruise control keeps your vehicle at the speed you set, but it will make adjustments if necessary. Lane-keeping assist keeps your vehicle within the proper position.