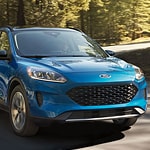 Here at Heritage Ford Inc., we are very excited about the Ford Escape SUV. The capability of this mid-size SUV can handle those jaunts around Corydon, IN, or the Escape can take you on that next grand outdoor adventure.
There are two hybrid engine systems that can be had with the Ford Escape. This is the only SUV in its class to offer such a choice. At the heart of each system is the 2.5 iVCT Atkinson Cycle Hybrid Engine. The difference between the two is that one hybrid is conventional. The other is a plug-in variety. You can choose the system that is best suited to how you will use your SUV.
Also available on the Ford Escape is All-Wheel-Drive with Rear Disconnect. The Escape is able to detect when rear-wheel-drive is not needed. It will automatically switch to front-wheel-drive to give you more control and stability. That means a safer trip for you.