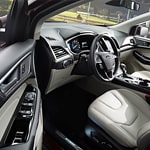 The Ford Edge is a featured vehicle at Heritage Ford in Corydon, IN. This automobile is fun to drive because it has practical organization and comfort options. You can access these features very easily from the driver's seat.
A Practical Layout
For convenience, the Ford team designed with Edge with a dial shift instead of a standard stick shift. Because the dial is sleek and compact, it unlocks more space beside the driver's seat. Thanks to the missing gear shift panel, the cupholders are bigger, and the storage compartment is larger as well.
Convenience Behind the Wheel
When you operate a Ford Edge, you have total control. If the Edge rolls over a road hazard, its performance-tuned suspension system will maximize stability to preserve comfort. The Edge also has supportive bolsters that can anchor you in the driver's seat during tough maneuvers around steep curves.